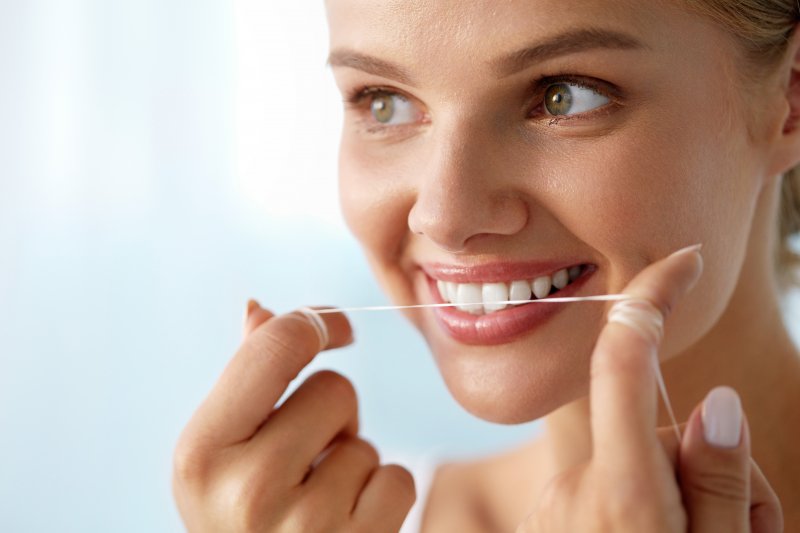 While there are several treatments out there for replacing missing teeth, none are more effective and long-lasting than dental implants. Not only can they restore 80% or more of your chewing power, but they also preserve your jawbone health and avoid further tooth loss! As long as you practice good oral hygiene, you can expect your restorations to last several decades to a lifetime. This means flossing between your dental implants will be just as crucial as brushing them in the long run. Keep reading to learn why this is essential for your restorations and tips on how to floss properly.
The Importance of Flossing Between Dental Implants
Although your dental implants won't get cavities, the soft oral tissue surrounding them can still be susceptible to bacteria buildup. Without proper cleaning or treatment, this can cause more serious health issues to occur, such as periodontal disease or peri-implantitis. This can lead to your gums and jawbone becoming weaker, increasing the risk of dental implant failure. For this reason, you'll need to floss often to prevent debris, plaque, and bacteria from accumulating around your new teeth.
How to Floss Around Dental Implants
A good rule of thumb for flossing is to do it at least once a day, preferably after eating a meal. This will allow you to keep your smile free of food particles and debris, especially in the hard-to-reach places your toothbrush can't clean. To ensure that you floss thoroughly between your pearly whites, practice the following methods:
Take roughly 18 inches of dental floss, wrap it around your middle fingers, and leave around two to three inches between them to floss with.
Slide the floss up and down carefully between your teeth as well as your dental implant and the crown.
Floss underneath the gum line and around the entire tooth (front and back side).
Gently move the floss up and out from between your teeth.
After each tooth, make sure to use a clean area of the dental floss. This will avoid spreading debris, food particles, and bacteria to other parts of your mouth.
With these few steps in mind, as well as brushing and scheduling regular checkups, you can ensure your dental implants remain clean and healthy for years to come. Speak with your dentist if you want to request a visit, and they'll be happy to help you maintain your new pearly whites!
About the Author
Dr. Aaron Haag earned his dental doctorate from the University of Nebraska College of Dentistry. He also regularly seeks continuing education to expand his expertise so that his patients receive the best quality treatments they deserve. He offers a wide range of services, including dental implants and checkups/cleanings to help you maintain your restored smile. If you'd like to schedule an appointment, feel free to visit our website or call 830-625-1515.