Dentures – New Braunfels, TX
Replacing Missing Teeth
According to the American Academy of Prosthodontists, an estimated 36 million Americans are missing all of their teeth. Not only can this have a drastic impact on your day-to-day life, making simple tasks like eating and speaking more difficult, but it can also have a deep impact on your confidence and mental health. At Comal Dental, we offer state-of-the-art answers, including natural-looking traditional full and partial dentures, as well as lifelike implant dentures and All-on-4 same-day dentures. Give our team a call today to learn how we can help you get your smile back!
Why Choose Comal Dental for Dentures?
3D Printed, Customized Prosthetics In-House
All-on-X Dental Implant Treatment
Dentist with Extensive Restoration Training
Who is a Good Candidate for Dentures?
Dentures are an excellent choice for any patients suffering from missing several or all of their teeth across an arch. For those who have traditional dentures and aren't satisfied with them, All-on-4 or implant dentures may be a better option due to their enhanced feel and function. To find out whether you can benefit from receiving dentures, schedule a consultation with Dr. Haag and our team today.
Types of Dentures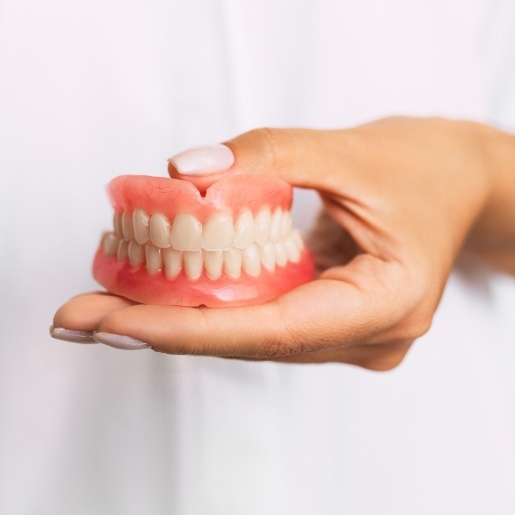 There are three different types of dentures that we offer at Comal Dental:
Partial Dentures: Partial dentures are designed to restore a number of missing teeth located in different places along the arch. The puzzle piece-like design allows the prosthetic to be held in place by existing teeth, preventing it from slipping or shifting, all while improving the function and look of your smile.
Full Dentures: Full dentures are designed to sit atop the gumline and utilize natural suction to stay in place. Their gum-colored base is the foundation for ceramic replacement teeth and they're easy to care for with the ability to last for up to seven years before needing to be replaced.
Implant Dentures/All-on-X: Implant dentures are able to restore the entire structure of missing teeth, including the roots. The implants are secured below the gumline and into the jawbone, and over three to six months, they naturally fuse with the bone to keep it from eroding. Once this process has occurred, Dr. Haag can secure a customized denture atop the implants. For patients who have already sustained bone loss, we also offer All-on-4 dentures that allow us to restore your smile the same day we place the implants.
The Benefits of Dentures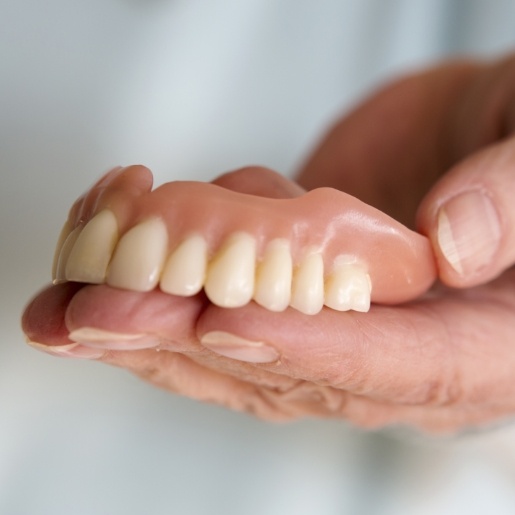 When you choose dentures to restore your smile, you'll be able to enjoy a wide range of benefits, including:
Same-day All-on-4 denture placement with dental implants
Easy to maintain
Natural-looking replacement teeth
Restored bite, allowing you to maintain a varied diet
Preservation of facial appearance
Cost-effective solution for replacing missing teeth
Living with Dentures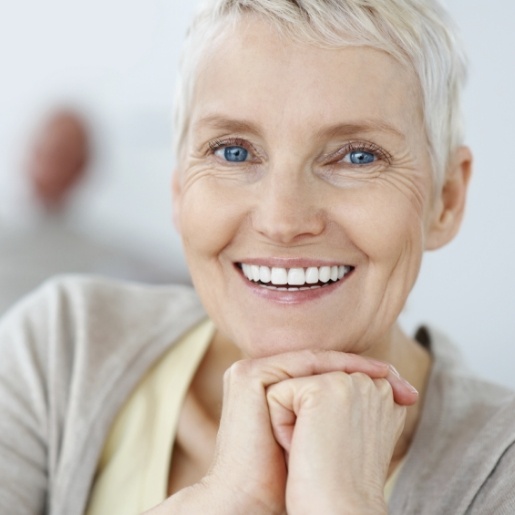 When you first receive your new full or partial denture, it can take some time for your mouth to grow accustomed to the way they feel. To help you get used to chewing, we recommend sticking to a soft food diet for the first few days and gradually adding heartier foods as you feel comfortable.
Chew evenly with both sides of your mouth to help the dentures stay in place. Practice reading out loud so that you get more used to talking with them. You can expect to deal with a little soreness in your gums for the first few days, especially if you recently had teeth extracted. However, if you experience any persistent pain or irritation, give us a call and we'll be more than happy to help!
Dentures Aftercare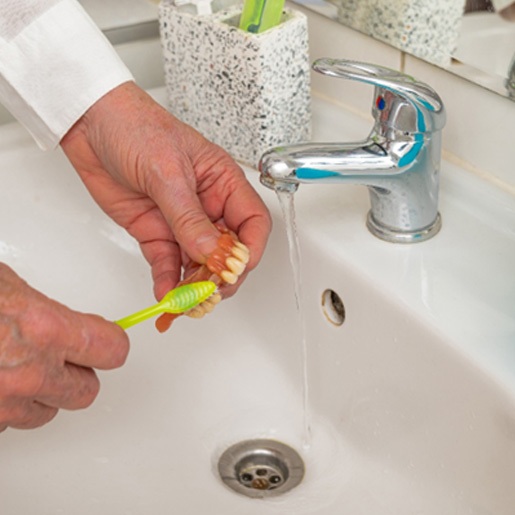 Even though prosthetic teeth are not vulnerable to decay, they still require regular upkeep. Not only can bacteria and plaque buildup on the dentures cause an unsightly appearance, but your gums can still contract an infection. In addition, if you're going to go through the time, effort, and investment of replacing teeth, you should do everything you can to make them last as long as possible! Caring for dentures will help you extend their lifespan and help you enjoy the best your replacement smile has to offer.
Removable Dentures
Caring for removable dentures looks different than caring for normal teeth, especially because you can take them out. Keep in mind that maintenance must occur every day; otherwise, your dentures can get smelly, discolored, or damaged.
Remove After Eating
Just as normal teeth can get debris stuck between them, food can get wedged between your fake teeth, and removable dentures have the added challenge of food getting between your denture and your gums. That's why you should take them out after eating to make sure bits of food don't stick around.
Clean Your Restoration
If you have the ability to remove your dentures, you'll need to clean them by taking them out and gently brushing them after meals as well as before you go to bed. Without this critical step, bad bacteria can attach to the dentures and have direct access to your gum tissue, putting you at a higher risk of gum disease.
Keep Your Dentures Safe
Your dentures are strong and durable, but nothing is indestructible. While they're in your mouth, you should be careful about what you eat. Chewing on ice or pencils is not a good idea with either real or prosthetic teeth because they could get damaged. Whenever your dentures are not in your mouth, they need to be properly and safely stored in a glass of water to keep them moist.
Remove Dentures When You Sleep
Did you know that your mouth produces less saliva while you sleep? During this time, your mouth can become dry, allowing bacteria to grow and spread on your denture. To avoid this, take your dentures out and soak them in a glass of water or denture cleanser overnight. In the morning, you simply put them back in and you're basically ready to go!
Notice Changes
Over time, if you pay attention, you will likely find that your dentures feel different than they used to. This happens not because the dentures are changing but because the jawbone is changing. Although minor adjustments can be completed in our practice, about every 5 to 7 years, your dentures will need to be replaced with a new set. Regular appointments with our team will ensure a good fit.
All-on-4 Dentures
The rules for All-on-4 denture care differ from those for traditional dentures but are like caring for real teeth. Because your prosthetic teeth are secured to implants, you don't have to worry about removing them for cleaning—you can brush and floss them just like normal teeth. You also need to come to our office regularly for checkups and cleanings to keep your smile in excellent condition.
Denture FAQs
Dentures in New Braunfels are a tried and proven solution to treat significant tooth loss, but you might have a few concerns before you are ready to commit to them. Dentures are a big investment. We want you to feel comfortable during your journey towards a complete smile. Here are our answers to a few frequently asked questions about dentures to help calm your nerves.
Can I sleep with my dentures?
Your dentists in New Braunfels will recommend wearing your dentures for a full 24 hours. After this period of time, you'll then remove them each night. Although no one wants to be caught without their teeth, your gums need a break and time to recuperate. Your dentures restrict blood flow to the soft tissues, which can lead to irritation and quicker ridge resorption. Taking them out at night allows your gums to get the nutrients they need to get ready for the next day.
Not to mention, your mouth is a dark and moist environment. It's the ideal breeding ground for harmful bacteria that can lead to infections and odors. Taking them out and cleaning them thoroughly with a soft-bristled toothbrush or denture cleaning brush can minimize bacteria accumulation. In addition, it's important to soak them nightly in a glass of cleaning solution or room temperature water to keep their shape from changing and aid in the cleansing process.
Do upper dentures always cover the palate?
If you've lost all your teeth in the upper arch, there are several types of dentures to fit your needs. While you could choose one that covers the palate, it can diminish the taste of food. As an alternative, a horseshoe-shaped denture can be used. It will look like a denture used for the lower arch, so it won't cover the roof of your mouth. Your dentists will explain all your options during your denture consultation to make the best choice for your smile.
Can I use regular toothpaste to clean my dentures?
While your dentures will closely mimic your real teeth, you don't want to use toothpaste to clean them. Toothpaste is abrasive, which can cause small scratches on the surfaces of your dentures that plaque and food particles can become trapped within. Not only can this tarnish your new smile, but it can also lead to unpleasant odors. Instead of using toothpaste, it's better to use a soft-bristled toothbrush with hand soap or specialty denture cleaner. It's best to clean your dentures after every meal, and don't forget to soak them in a solution at night to remove anything left behind by your toothbrush.
Can you kiss with dentures?
You don't have to feel embarrassed when puckering up for a kiss; however, it can take some time to get used to wearing your dentures. Since your dentures don't have any nerves like your real teeth, you might bump your mouth on theirs if you aren't careful. Although it may take a little practice, you can kiss your loved ones without worrying about hitting their teeth or yours falling out.