Cosmetic Dentistry – New Braunfels, TX
Boost Your Confidence by Beautifying Your Smile
Countless people experience accidents or have genetic risks that lead to smile imperfections that can impact their confidence, like discoloration, crowded and crooked teeth, and dental damage. Fortunately, you don't have to live with those flaws forever. Drs. Haag and Hansen offer several personalized cosmetic treatments that can give you a smile that you feel proud to let show. Call our office today to schedule a cosmetic dentistry consultation!
Why Choose Comal Dental for Cosmetic Dentistry?
Convenient Take-Home Professional Teeth Whitening
Same-Day Zirconia & Ceramic Dental Crowns
See Results Before Treatment with Virtual Smile Design
Veneers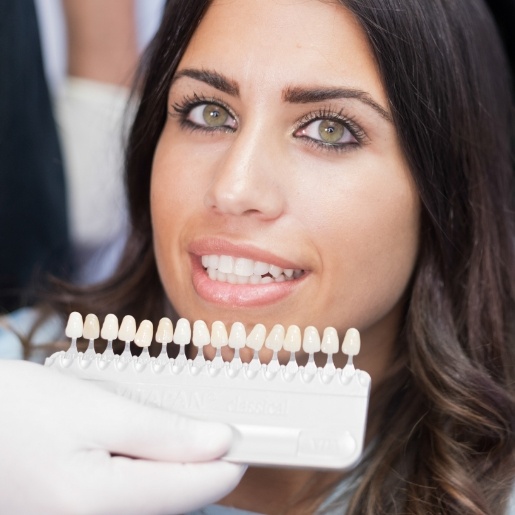 Veneers are thin, durable sheaths of dental porcelain that are designed to fit over the visible surface of individual teeth to conceal a wide range of flaws, like dental damage, discoloration, gaps, and even slight misalignment. The porcelain material is able to mimic the natural appearance of enamel because it reflects light, allowing the veneers to be virtually indistinguishable from your natural teeth. With the proper maintenance, the restorations can last for up to 25 years, allowing you to enjoy a brilliant, symmetrical, and undamaged smile for years to come.
Metal-Free Restorations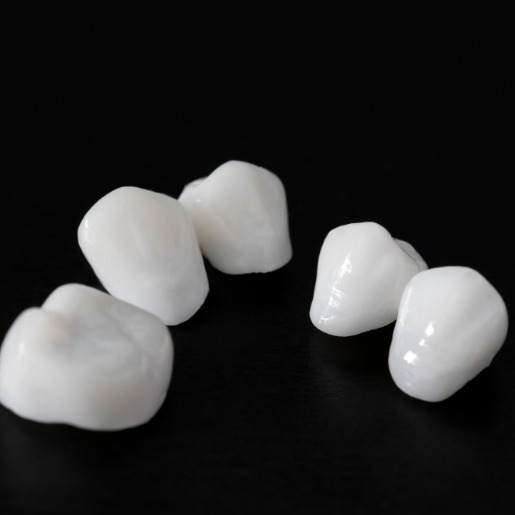 In the past, dentists would utilize metal to craft restorations like crowns and fillings because they were known to be the most durable option. However, they came with problems of their own, like heightened tooth sensitivity, discoloration, and more. At Comal Dental, we use extremely durable and natural-looking materials like zirconia and ceramic to craft restorations that look lifelike. We also utilize the latest technology, like our CEREC system to craft and secure them to your affected tooth, all within a single appointment.
Teeth Whitening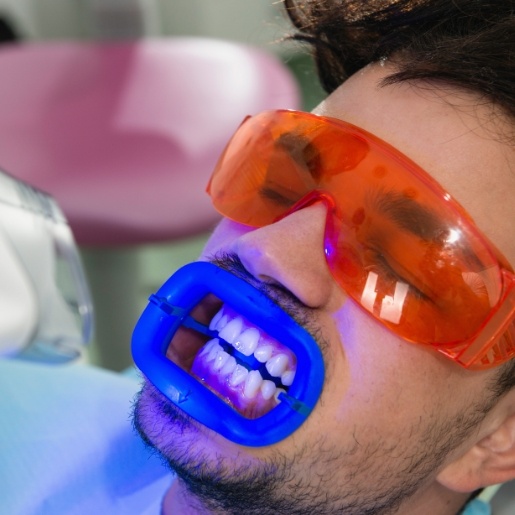 Is your smile's beauty dimmed by staining and discoloration? Whether the cause is genetic, due to medications you're taking, or from consuming certain foods or beverages, our professional-grade take-home teeth whitening kit can help brighten your smile. Simply utilize the whitening gel and trays as directed, and within two weeks, you can enjoy a noticeably brighter grin.
SureSmile Clear Aligners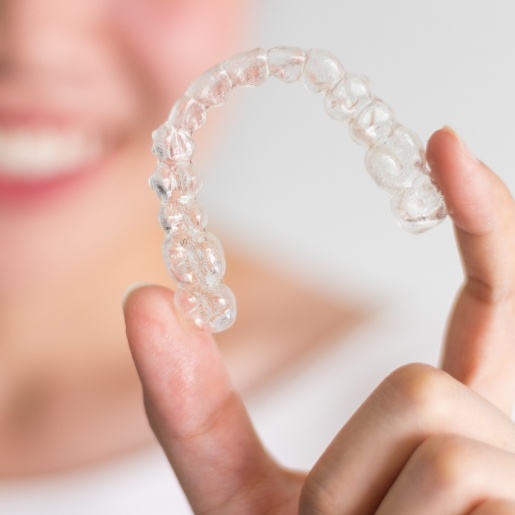 Instead of needing to commit to having metal brackets and wires in your mouth for years, our team offers a more comfortable and convenient alternative, SureSmile clear aligners in New Braunfels. Each tray that you receive is designed to place a strategic and gradual amount of pressure onto your arch to correct misalignment, crowding, and gaps, making your smile appear straighter. Not only can this provide you with aesthetic benefits, but it can also improve your oral health by making brushing and flossing easier than ever.
Virtual Smile Design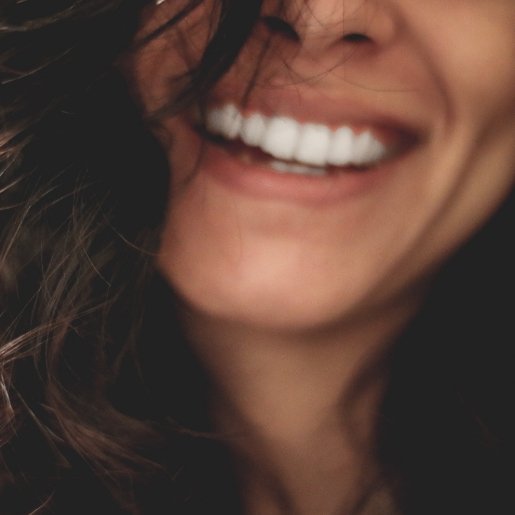 For many patients, the thought of having to commit to a treatment that could permanently change your smile is daunting, especially considering you won't be able to see the results until after the process is complete. With our virtual smile design technology, we can show you what your smile will look like before and after the treatment, taking any gambling out of the process of investing in cosmetic dentistry in New Braunfels.
Smile Makeovers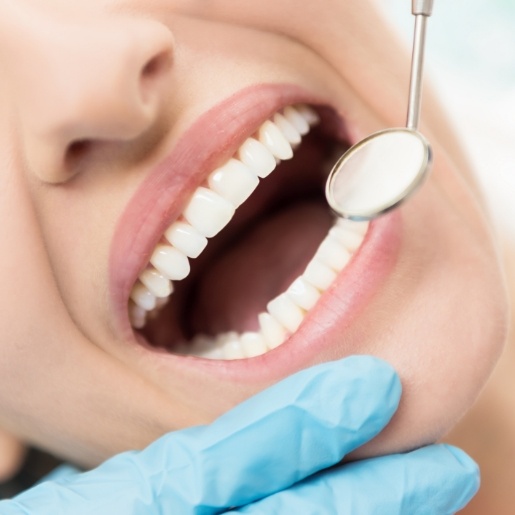 If there are several different types of imperfections that you'd like to address, we can create a custom-tailored smile makeover plan to take care of all of your concerns at once. Based on your goals, budget, and timeline, we'll design the treatment to fit your needs. It will include two or more of our cosmetic or restorative services, which we'll outline with you during your consultation, once we've had a chance to examine your smile and speak with you.
Cosmetic Dentistry FAQs
Everyone can have the stunning smile they deserve with cosmetic dentistry in New Braunfels; however, elective procedures are a big investment. Most people have a few concerns before they are ready to commit to anything. Our dentists understand you might be a little apprehensive, but they can explain everything during your consultation! In the meantime, here are the answers to a few frequently asked questions.
How long will my results from cosmetic dentistry last?
Every procedure has a different lifespan, and various factors affect how long your results will last. You can ensure your investment thrives by following these preventive measures:
Maintain good oral hygiene routine at home. Brush, floss, and use a daily mouth rinse to keep your teeth and gums healthy.
Avoid anything that can harm your results, like abrasive dental products, using your teeth to open packaging, or smoking.
Visit your dentist at least twice a year for a cleaning and checkup.
Can I use my dental insurance to pay for cosmetic dentistry?
Cosmetic procedures are considered elective; therefore, it's rare for dental insurance to cover their cost. However, there are some exceptions. Specific cosmetic treatments also provide restorative benefits, like dental bonding, which may be required to prevent other oral health problems from developing down the road. In these cases, your insurance may cover a portion of the cost of treatment.
If applicable, a member of our team will file the required claim forms to maximize your benefits. We will review your financial options for anything not covered by your dental insurance.
Is dental health important for cosmetic dentistry?
Yes, your dental health is the foundation of a beautiful smile. If underlying problems aren't treated, cosmetic dentistry will just act as a band-aid. Although your smile might look better, the issues are still there, just waiting to turn into a dental emergency. Your cosmetic dentist will examine your mouth to ensure it's healthy before focusing on any aesthetic concerns. If we find any problems, like tooth decay or gum disease, we'll have to resolve them before moving forward. It may add another step to your treatment plan, but you don't want to set your new smile up to fail.