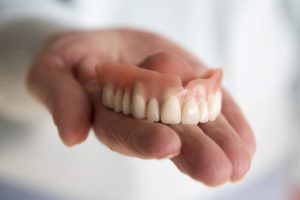 You rely on your dentures for eating, speaking, and feeling confident about your appearance. You can't go without your teeth, and you won't have to if you care for them properly. Although dentures need to be replaced every 5 to 7 years, you can get the most from your investment and prolong their lifespan by keeping your pearly whites clean. Brushing them isn't enough. Here are 4 reasons why soaking dentures is vital for their life expectancy and your health.
1. Acrylic Dentures Have Pores
Acrylic is used to make the base of dentures to provide a comfortable fit. Not to mention, it makes your new smile look natural. Although your dentures may look solid, they have countless tiny holes, called pores. You may not see them, but bacteria will find the crevasses easily. Your toothbrush bristles can't remove harmful pathogens from the pores. Soaking your dentures at night is the only way to remove bacteria left behind by your toothbrush.
2. Age Increases Oral Bacteria
Everyone has hundreds of species of oral bacteria in their mouth; however, age causes the numbers to climb from decreased saliva production. Saliva plays an important role in keeping your mouth clean between brushing. It's also the first step of digestion. Unfortunately, certain medical conditions or medications related to aging can cause dry mouth, creating the perfect breeding environment for bacteria. Over time, it can lead to odors and infections. A soaking solution will kill any bacteria lingering on your dentures. Drink plenty of water throughout the day to keep your mouth moist.
3. Keep Your Gums Healthy
Your dentures restrict blood circulation to your gums. If the soft tissues aren't given time to receive the nutrients they need, pain, inflammation, sores, and infections can occur. Taking your dentures out before heading to bed gives your gums the break they need to recuperate. A denture solution will keep them safe and moist while you and your gums get some rest.
4. Effective Method of Cleaning Dentures
No matter how well you brush your dentures, bacteria are going to be left behind. Research has found that nightly soaking can remove over 99.9% of oral bacteria to keep your mouth and body healthier. Not to mention, you'll keep foul odors at bay, so you don't have to worry about bad breath. With fewer bacteria colonizing your dentures, you'll safeguard them from preventable damage to ensure they last for years.
Commit to Keeping Your Dentures Clean
Besides caring for your dentures at home, don't forget to visit your dentist regularly for a checkup. They will keep your dentures looking their best and adjust them when necessary to maintain a snug, comfortable that can last for years.
About Dr. Aaron Haag
Dr. Haag worked as a dental assistant before achieving his dental degree from the University of Nebraska College of Dentistry. He has completed extensive education in advanced dental implant procedures and can treat the most complex cases of tooth loss. If you are ready to replace your missing teeth, contact our office today to request your consultation.