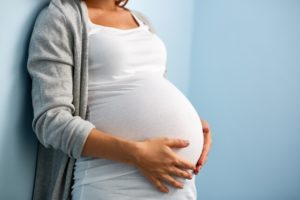 Every tooth is crucial for a healthy, beautiful smile. Dental professionals recommend replacing a lost tooth quickly to prevent bone loss and other oral health problems. A dental implant is the most reliable method of treating a missing tooth. As the only treatment to replicate the root and crown, it creates a nearly perfect replica of a real tooth. Most people with good oral and general health are candidates for the procedure, but dental implants during pregnancy can be risky. Although it's safe to visit a dentist while you're pregnant, it's not the best time to get a dental implant. Here's why you should wait until after your little bundle of joy arrives. 
Dental Implants are Unique
Traditional tooth replacement methods only recreate the portion of a tooth above the gum line, but dental implants go a step further. A titanium post is surgically placed into the jaw to mimic a root. After the bone fuses to the implant, an abutment is attached to it to connect a custom-made restoration. Unlike traditional bridges or dentures, dental implants require oral surgery, which may not be the safest option for expectant mothers or unborn babies.
Pregnancy and Dental Implants
The American Dental Association and the American College of Obstetricians and Gynecologists encourage pregnant women to visit their dentist regularly for cleanings and checkups. While routine services are safe for both mother and baby, elective procedures can't be performed after the first trimester. While it's possible to get dental implants later into pregnancy, most dental professionals will advise against them.
It's safe to have dental work once you have reached the second trimester, like fillings, root canals, and crowns. Studies have found that local anesthesia is safe during pregnancy, but dental implants require stronger sedation, which can be risky for expecting mothers and unborn babies. Not to mention, you'll require X-rays. Although digital X-rays use minimal radiation, the American Dental Association discourages X-rays during early pregnancy.
You don't have to wait until after you deliver to start your journey to a complete smile. You can't have your placement surgery quite yet, but you can complete several steps of your treatment, so your smile is healthy and ready to go after your little one arrives.
Preparing for Dental Implants
If you've reached your second trimester, schedule your consultation for dental implants. Your dentist will examine your mouth and create a personalized plan. It's not uncommon to need a little prep work, like a cleaning or gum disease therapy, which are safe during pregnancy.
You can schedule your placement surgery after giving birth by ensuring your mouth is healthy. Although you may have to wait a few months for your placement surgery, it's time well spent to safeguard the health of your developing baby.
About Dr. Aaron Haag
Dr. Haag earned his dental degree at the University of Nebraska College of Dentistry and has completed advanced education in dental implants and cosmetic dentistry. He combines his qualifications with the latest technologies and treatments to help each patient achieve their best smile. Contact our office today to request an appointment.