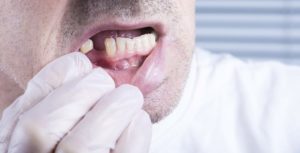 Nothing is worse than losing a front tooth. No one wants a gap to be the focal point of their smile. Thankfully, you have many options to replace a missing tooth, like a dental implant. It's unlike any other treatment because it recreates both the root and the crown. It will look and feel natural, so you won't think twice before showing off your pearly whites. Here's why a dental implant is worth the investment.
A Dental Implant is Different
Traditional prosthetics only replicate the portion of a tooth above the gum line. A dental implant goes a step further.
A titanium post is surgically placed into your bone to serve as a root, so your restoration won't rely on your surrounding teeth for support. Your bone will fuse to the post through a process called osseointegration. An abutment is attached to the post to connect a customized restoration. It will be made to match the size, shape, and color of your real teeth, so no one will know it isn't natural.
Candidate for Dental Implants
Most patients with good oral and general health are candidates for dental implants, whether missing a front tooth, one in the back, or several teeth. Your implant dentist will examine your mouth and review a CT scan to ensure you're a candidate for the procedure. Based on the results, you may need a little prep work, like periodontal therapy or bone grafting.
Benefits of Dental Implants
500,000 people per year are choosing dental implants and for good reasons. When compared to traditional tooth replacement methods, they provide unmatched benefits, including:
High Success Rate: A dental implant offers predictable results, with over a 95% success rate.
Stops Bone Loss: You can lose 25% of your jaw's density within the first year of losing a tooth, which will continue as time passes. A dental implant is the only method to stop bone loss to keep your jaw strong.
Reduced Dental Expenses: You'll avoid common issues caused by tooth loss by preserving your jawbone, so you won't need costly treatments later. Not to mention, you'll never have to budget for replacements because dental implants can last for a lifetime.
Last for Decades: A dental implant can last for 30 years or more with the right aftercare, like brushing, flossing, and visiting your dentist regularly.
Improved Confidence: Your dental implant will look natural. Only a trained dental professional will know it isn't real, so you can smile confidently.
Improved Oral Functions: Your dental implant will have the support of your jawbone. You won't have to avoid your favorite foods because you'll restore 70% of your biting force.
Don't settle for anything less than the best. A dental implant is a great solution to replace your front tooth.
About Dr. Aaron Haag
Dr. Haag earned his dental degree from the University of Nebraska College of Dentistry and has regularly pursued continuing education in advanced specialties, including dental implants, cosmetic dentistry, and more. If you're ready to replace your missing teeth, contact our office today by calling (830) 549-6673.