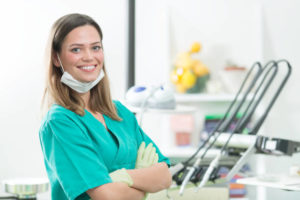 Although brushing and flossing are effective at preventing cavities and gum disease, they aren't enough to keep your smile healthy. The American Dental Association recommends visiting your dentist every 6 months for a cleaning and checkup. Your dentist is invaluable to your oral health, but your dental hygienist is equally important. They are more than just a smiling face in the office. They must complete a dental hygienist program, which can take 2-4 years. Their training and experience are assets to your oral health. Here are 5 reasons to appreciate your dental hygienist.
1. Dental Cleanings
Your dental hygienist is responsible for cleaning your teeth. Brushing and flossing can't reach everywhere in your mouth. Plaque and tartar can accumulate in hard-to-reach areas, increasing your risk of tooth decay and gum disease.
A dental hygienist removes any buildup using special dental instruments. They are the first person to get a good look at your mouth to spot anything concerning, like gum inflammation. They communicate their findings with your dentist to enhance patient care and dental health.
2. X-Rays, Impressions, and More
A dental hygienist does more than just keep your pearly whites clean. Their responsibilities also include X-rays, impressions, and other non-surgical services.
They provide your dentist with information to have a complete picture of your dental health. Whether you need annual x-rays or an impression for a restoration, they help prep for any dental services.
3. Develop Lifelong Patient Relationships
If you visit one dentist for many years, it's natural to develop relationships with your dental team. Many patients spend the most time with their hygienist, allowing you to get to know each other over time.
Not only can this lead to friendship, but they will remember details about your oral health and lifestyle to provide more personalized solutions to keep your smile healthy.
4. Perform Many Nonsurgical Treatments
During a dental hygienist training program, they learn many non-surgical treatments, like fluoride varnish and dental sealants. You can feel confident your smile is in good hands to help you achieve your oral health goals.
5. Oral Hygiene Education
Your dental hygienist is an expert in oral hygiene. After examining your mouth, they can provide tips and advice on how to improve your oral hygiene at home to reduce your risk of any issues, like flossing more often or changing your toothpaste. You'll have the information you need to keep your teeth and gums healthy in between regular appointments.
Dental hygienists are an irreplaceable part of your dental team. Show them the appreciation they deserve during Dental Hygienist Appreciation Week.
About Dr. Sarah Hansen
Dr. Hansen earned her dental degree at the UNMC College of Dentistry and is passionate about continuing her education to provide the best dental care. She has completed additional education in many specialties, including CEREC, Invisalign, and general dentistry. If it's time for your next cleaning and checkup, contact our office at (830) 549-6673.