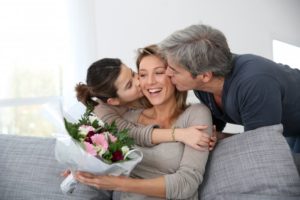 The mothers in your life do so much. Their loving smile can brighten your day. They give so much and usually get little in return—what can you do to make Mother's Day special for these special women?
Although you can get mom some flowers and a heartfelt card, there are other gifts that can help her feel appreciated and loved. Keep reading to learn about four dentist-approved gift ideas to help her smile stay happy and strong.
Yummy, Healthy Meal
Whether you go out for brunch or dinner, the mothers in your life deserve to be treated to a meal they don't have to cook. Fortunately, there are plenty of foods choices that are not only delicious but also nutritious and beneficial for their smile.
For instance, leafy greens have necessary vitamins and minerals and cause the mouth to salivate more, rinsing food debris and plaque away. In addition, strawberries naturally keep teeth whiter, and dairy products usually contain quite a bit of calcium, which strengthens tooth enamel and bones.
Treating mom to a nice meal lets her know you appreciate her and can help her have a healthier smile.
Teeth Whitening
If mom is self-conscious about how her yellow or dull-looking teeth, professional whitening treatment could help her have more confidence. Store-bought kits usually brighten smiles by two or three shades, but whitening with your dentist usually removes eight to ten shades of discoloration!
With this treatment, mom can show her full, genuine smile in photos. She may even smile and laugh more often, which makes everyone happier.
Electric Toothbrush
Moms are busy and need every resource to use their time as efficiently as possible. It can sometimes be easy to forget basic self-care—even brushing their teeth. An electric toothbrush can make this twice daily task simpler for mom to do and help her achieve a better clean every time.
Dark Chocolate
Last, but certainly not least, you can go with a gift that most moms will love—chocolate! Dark chocolate specifically has compounds that can actually help fight the bacteria that cause tooth decay. Having a little bit every day could help mom keep her sanity as well as her smile protected from cavities.
With everything she does for you, mom could use some extra care from you this Mother's Day. So show her that you love her and need her smile by helping her keep it as bright and beautiful as she is!
About the Practice
In New Braunfels, Comal Dental offers patients a comprehensive dental experience. From dental implants to whitening, from routine cleanings and checkups to cosmetic services, we offer everything under one roof. If you would like to schedule an appointment to discuss whitening or other services, you can contact our office online or call us at 830-625-1515.