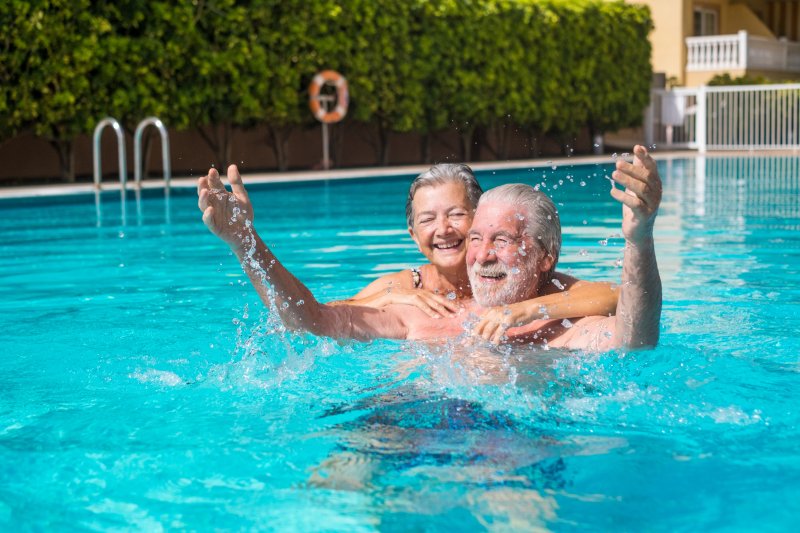 Given the recent heat, you've likely been swimming. The activity can certainly cool you off from these record highs. The next time you take a dip, though, exercise more caution. Swimming in a pool can hurt your teeth if you aren't careful. That said, reducing this oral risk is possible with the right practices. Your New Braunfels dentist will even tell you about them. So, here's a summary of chlorine in pools, how it affects teeth, and ways to protect your smile from it.
<!–more–>
Context: Pools Contain Chlorine
Among other things, pool water typically contains chlorine. This chemical plays a vital role in modern swimming areas.
Put simply, chlorine protects swimmers from waterborne illnesses. It kills disease-causing germs before they can enter your body. As a result, you're kept safe from conditions like diarrhea, skin rashes, coughing, and more.
Chlorine's inclusion in the water supply has greatly helped society. Before it was introduced, drinking water caused diseases that afflicted thousands yearly.
How Does Chlorine Affect Your Teeth?
Despite its upsides, chlorinated pool water isn't always helpful. It can greatly harm your teeth in some cases.
You see, pools with low pH levels hurt your enamel. The water they contain is so acidic that they wear down your top tooth layers. For that reason, swimming in them can cause severe tooth decay. This latter condition, also called "swimmer's calculus," can stain teeth yellow.
In light of these facts, you shouldn't allow your pool's pH balance to dip too low. The CDC recommends the levels of treated water be between 7.2 and 7.8.
How to Protect Teeth from Pool Water
Of course, you can take steps to make pool water safer for teeth. Consider those listed below:
Note the linings, railings, and ladders in public pools. Overly-acidic water will eat away at these objects. If they show signs of erosion, therefore, the surrounding pool water will erode teeth.
Buy some pH strips at your recreational supply store. These would let you test pool water before your swim. In particular, dip them in the water and see if they show a pH between 7.2 and 7.8.
Swim in a backyard pool instead of a public one. Unlike the latter, the former would let you control the water's pH balance. You could thus assess its acidity once a week and even have a specialist examine it.
If you don't take precautions, swimming in a pool can hurt your teeth. Therefore, remember the tips above so your swim goes easy on your pearly whites.
About the Practice
Comal Dental is based in New Braunfels, TX. Led by Drs. Aaron Hang and Sarah Hansen, our practice seeks to give each patient top-quality dental care. To that end, we offer preventive, cosmetic, and restorative services, as well as emergency dentistry procedures. Our team is also a certified provider of ClearCorrect dental aligners. For more information or to book a visit, you can reach us on our website or by phone at (830)-625-1515.